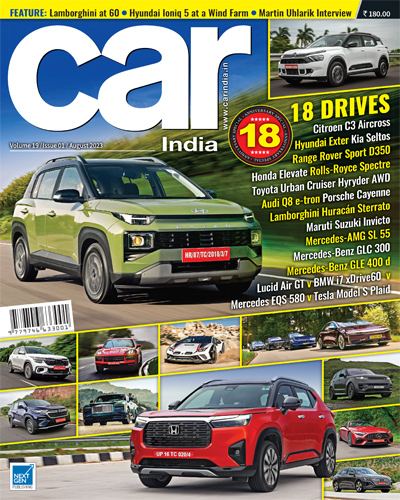 CAR magazine, overwhelmingly acknowledged as the world's best car magazine, has driven into India under the name of CAR India. Explosive and vibrant, as well as serious and sensuous, CAR India has been launched to satiate the discerning automobile enthusiast who knows his radiators from his air filters. Full to the brim with spectacular international stories, fantastic Indian features and the hows and why about motorsport the world over, CAR India is for the insightful. Stories coupled with incisive analysis take the reader behind the scenes to explain the "Why" behind the "What," all this accompanied by stunning visuals courtesy award-winning design and publicity. CAR India is an authoritative automobile magazine, written for people with a burning passion for anything on four wheels. At the helm of CAR India is the very experienced Aspi Bhathena, one of the most respected names in the Indian and international motoring journalism.
Online Version

CAR India has an online extension which goes beyond the print magazine, it aims to provide a whole host of interactive tools and multimedia content for its viewers, to engage with the CAR India team and fellow automobile enthusiasts. Visit www.carindia.in for more.

Our Objective
CAR India prides itself in being an enthusiasts' magazine. It calls a spade a spade. Our objective is to enthrall the reader with imaginative stories and features, month after month. We will go anywhere, and any distance to drive a car.
Our Mission
With its authoritative features, breathtaking visuals, award-winning design and vibrant colours, CAR India is set to redefine motoring journalism in the country.
The Team
Aspi Bhathena (Editor)
Marzban Jasoomani (Publisher)