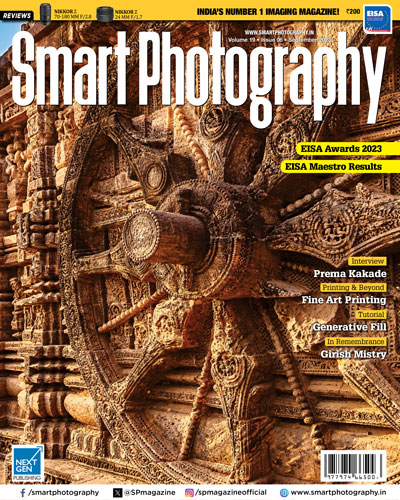 Unlike other photography magazines, Smart Photography has to its credit names that have been synonymous with defining and recognizing benchmarks in the industry. Not only do we understand the importance of this wonderful art form, we have also been instrumental in introducing the world's first and finest technologies to this part of the continent. Finally, the one facet that sets us apart, is our unbiased and true-to-the-core equipment reviews that have not only helped photographers decide their essential tools, but have also proved a source of constructive feedback for manufacturers.
So, what happens when all these passionate and dedicated people come together under one roof? The result is an inimitable photo magazine that is all set to redefine the world of photography and imaging!

Online Version
Smart Photography has an online extension which goes beyond the print magazine, it aims to provide a whole host of interactive tools and multimedia content for its viewers, to engage with the Smart Photography team and fellow photography enthusiasts. Visit www.smartphotography.in for more.
Our Objective
As you may be aware, quality is second nature to us. However, we would like to reiterate that we are a part of the photographic fraternity and hence stay truly committed towards the expansion of the Indian photographic industry, in addition to spreading the knowledge associated with the art form.
Our Mission
In addition to addressing the imaging needs of today's budding photographers, amateurs and professionals alike, Smart Photography will act as a catalyst in the growth and prosperity of South Asia's imaging industry. It will also set the highest standards in photographic journalism seen in our part of the world and will truly represent the industry vis–vis the government and other institutions.
The Team
Hoshang S Billimoria (Editor)
Girish Mallya (Publisher )